<![if !supportEmptyParas]> <![endif]>
<![if !supportEmptyParas]> <![endif]>
<![if !vml]>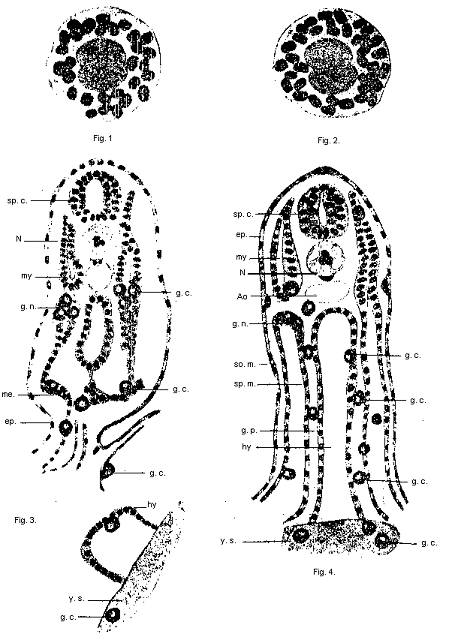 <![endif]>
<![if !supportEmptyParas]> <![endif]>
         ILLUSTRATING THE GERM-CELLS OF FISHES AND THEIR MIGRATIONS INTO THE
                                                              EMBRYONIC BODY.        
              Fig. 1. - Primary germ-cell of a small dog-fish, Pristiurus melanestomus. The cytoplasm is
         glossy in character, and contains a large number of (blackened) yolk-plates. The nucleus exhibits
         duplication. i.e., autonomy of paternal and maternal portions.
              Fig. 2.-A similar primary germ-cell from the skate, Raja batis.
              Fig. 3.-The conditions seen in two transverse sections of a 4 1/2 mm. embryo of Pristiurus. The
         lettering is as follows ; sp.c., spinal cord; n., notochord; my., myotome; g. n., germinal nidus;
         me., mesoblast; ep., epiblast; hy., hypoblast; y. s., yolk-sac: g. c., germ-cell.        
              Fig. 4. - A diagrammatic section of an early skate-embryo. To illustrate migrations of the
         Germ-cells along the germinal path, g.p., and showing germ-cells in various abnormal positions.
         The lettering as in Fig. 3. excepting so. m. somatic mesoblast; sp.  m. splanchuic mesoblast;
         ao., aorta.
58a fig.
<![if !supportEmptyParas]> <![endif]>
<![if !supportEmptyParas]> <![endif]>