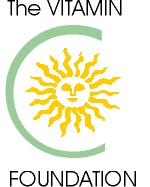 Cardio-C

Outstanding Pauling-therapy Formula Drink Mix
Designed for Prevention

From one of our customers:
" I have taken my Cardio C two times sometimes three times a day since 1996, no statins, ever since the last operation for my atherosclerosis in 1995 and blood clots in the legs. It was four operations ending with an aorta bypass that was enough for me - Linus Pauling came next, and I an eternally grateful for the dissemination of his findings and those of his colleagues, and to all who helped to spread his teachings: I have had no heart problems since I began with Cardio C. Perhaps I should add that I consider it very necessary to add regular exercise, even gentle, to the Therapy; I am myself together with my wife an ardent cyclist. " - Daniel, Sweden , 2010

Testimonials represent a cross section of the range of results that appear to be typical with these products. Results may vary depending upon use and commitment.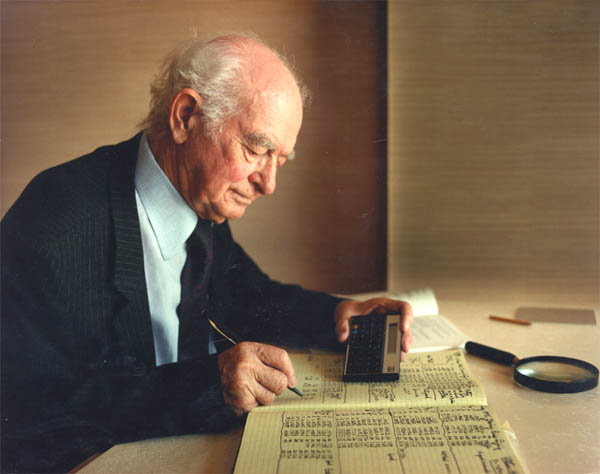 VITAMIN C FOUNDATION Approved®


About Foundation Approved Cardio-C
DOCTOR TESTED. (Our biggest customers are Medical Doctors, and we do not advertise.)
Contains only World's Finest China-Free Vitamin C


Not Manufactured with Chinese Vitamin C


One Jar Monthly: Preventive Anti-CVD Pauling-Formula

2 or More Jars Monthly: Therapeutic Anti-CVD Pauling-Formula

Vitamin C is Hypoallergenic. 100% Corn Free, No-GMOs

Pharmaceutical Grade Ingredients

No fillers or excipients

Guaranteed Quality and Potency

Pleasant Taste - sweetened with the herb stevia.
Full Refund if Not Completely Satisfied

Cardio-C Ingredients


| | |
| --- | --- |
| Per serving | Ingredient |
| 2500 mg | - Vitamin C (DSM Quali-C - Ascorbic Acid) |
| 2500 mg | - Lysine |
| 500 mg | - Proline |
| | Stevia (taste), Vitamin B2 (orange coloring) |
30 servings per jar
Retail Price - $39.45
Autoship Price - $27.45
Purchase Cardio-C from the Vitamin C Foundation.


A preventive Pauling-therapy drink mix. Find out more about Cardio-C at
cardio-c.com
and Linus Pauling's recommended therapy at
Pauling-Therapy
for heart disease.
Note: The Vitamin C in all our products is DSM Quali-C manufactured in Europe.
Setup Convenient Automatic Reorders and receive the Best Price!
ATTENTION: There are two prices for all our products. Regular retail and a lower priced recurring automatic reorder/shipment labeled AUTOSHIP.
Order Cardio-C Autoship for less. Although the default interval for autoship is monthly, there is a note box at the end of the process where you may ask for your own interval, in days, weeks or months, with the minimum being one purchase every 6 months. YOU MAY SET YOUR OWN INTERVAL and still get the reduced automatic shipping price.
In addition, after the minimum commitment of 2 purchases, you may stop the autoship at any time by either calling or selecting the "Stop Autoship" pseudo product listed in our online store and processing it like a regular purchase. Our "Autoships" are easy to change /and/or cancel.
The Vitamin C Foundation sponsors Cardio-C, a dietary supplement, which according to Linus Pauling, has the ingredients necessary for preventing and healing cardiovascular disease caused by elevated lipoprotein(a), or Lp(a), cholesterol in the blood. Pauling's claims have yet to be formally studied by modern medicine.
"I have so much energy!"
Please send a total of 2 Cardio-C per month from now on. I heard about you from Duka and the Doctor on radio. I have only been using this (2Xday) for a couple of weeks and cannot believe how much better I feel. My rheumatoid arthritis (developed 40 years ago) and allergies and general all-over "icky" feeling are almost gone ALREADY(!). I used to go to bed by 6:30 or 7:00 in the evening--I now have so much energy, I don't notice that it's bedtime till 9:30 or 10:00. When I think of the expensive and debilitating therapies over the years, I almost weep at the waste and despair. However, there is no time to cry! I am 55 years old, and I welcome every day of the wonderful life I am going to have. Thank you, Thank you. I only hope I come into some major money so I can contribute to this wonderful research. Much love and gratitude, Diana Z.
Testimonials represent a cross section of the range of results that appear to be typical with these products. Results may vary depending upon use and commitment.
Why We Freeze Cardio-C to Preserve Freshness - and Why You Should Too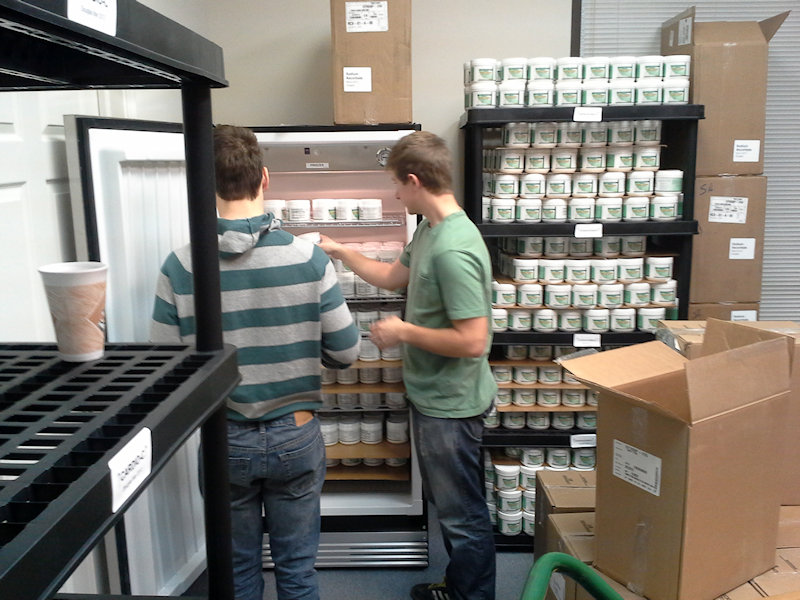 We freeze more than half of every batch of Cardio-C that we receive from the bottler.
Usually this means that Cardio-C you get from us is fresh,
no matter what the manufacturing date is on the bottom.
Every once in a while a bad Cardio-C jar will be sent out. We will replace it at no charge. If you happen to receive a bad jar (i.e., hard or clumping contents), it probably means the seal was faulty and some air got in. Take a picture of the open jar, and we will send you a new jar free of charge.)
Frozen for Freshness
Due to the new federal GMP regulations, we are forced to order large batches of Cardio-C. In a matter of months, the mixture inside the jar tends to clump in response to moisture, (which is why you should keep the dessicants that come in the jar - in the jar.) The amino acid proline in the mixture is the culprint. Proline reacts with moisture and begins to clump reducing shelf life. A chemist informed us that freezing stops this reaction w/moisture, and our tests show this to be the case. This is also why if you order several jars, we recommend storing the unopened jars in the Freezer. To our knowledge we are the only ones freezing our Pauling therapy product to preserve freshness.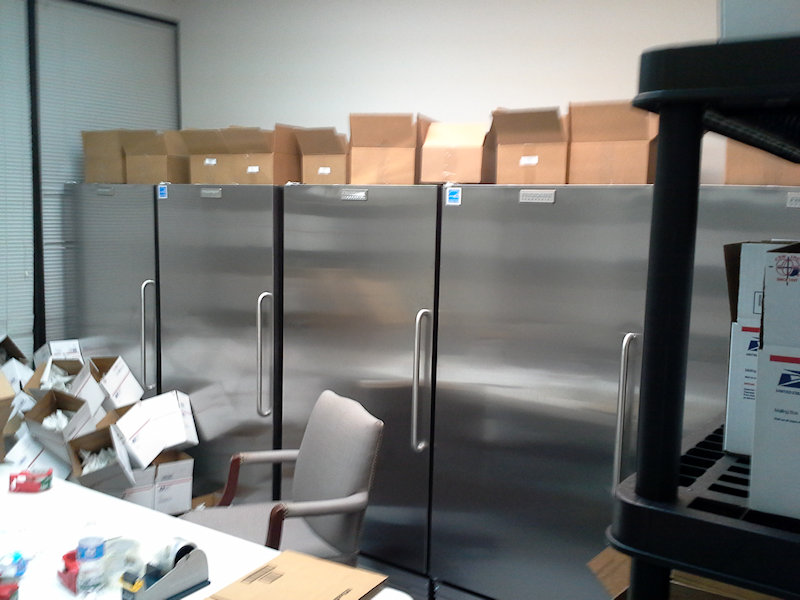 What is the Pauling Therapy?
According to Linus Pauling and associates, the cause of heart disease is inability to make our own vitamin C causing a chronic vitamin C deficiency. Pauling, the founder of modern chemistry, holder of 48 honorary Ph.D.s, and the world's only 2-time unshared Nobel prize laureate, theorized that too little vitamin C elevates cholesterol levels, including the Lp(a) variant that causes narrowing of blood vessels.
When Linus Pauling learned that Lp(a) cholesterol binds to strands of lysine protruding from weak and damaged blood vessels, he invented the high-lysine therapy, saying:
"Knowing that lysyl residues are what causes Lp(a) to stick to the wall of the artery and form atherosclerotic plaques, any physical chemist would say at once that to prevent that put the amino acid lysine in the blood to a greater extent than it is normally. - 92-year-old Linus Pauling
Pauling specific high-dosage therapy for heart disease backed by his unified theory and is apparently effective clinically,
[*]
and the high-dosage
vitamin C
and amino acid
lysine
therapy has been named the
Pauling Therapy
in his honor.
One scoop of
Cardio-C
daily provides Linus Paulings specific dosage recommendations for those without heart disease, and 2 or more servings daily provides Pauling's therapeutic dosages for stopping and even reversing cardiovascular disease.
The Pauling/Rath unified theory of cardiovascular disease (CVD) constitutes one of the most promising breakthroughs in modern science; [*] yet its intriguing prediction, that the Lp(a) binding inhibitors vitamin C and lysine will prevent and dissolve arterial blockages, has been ignored, even suppressed, by the pharmaceutical industry, the medical profession and the national media. [*]
However, the public is slowly becoming informed via the Internet. [*] The number of seemingly miraculous reversals of incapacitated cardiovascular diseased patients increases daily. [*] The first three such accounts are depicted by Linus Pauling on video. [*]
Linus Pauling stated that he doubted a double-blind, placebo controlled trial was necessary because the vitamin and amino acid therapy is non toxic, its effect is so pronounced, and CVD is otherwise debilitating or fatal.
Testimonials

Owen's Pauling Therapy Handbook

Pauling Therapy Web Site

More Cardio-C Product Info

Compare Cardio-C and Tower HeartTechnology
"Yes, we really want six. These are for a friend, (and are working really well I might add, he's had a quad bypass a few years back and his angina returned. After approx. 10 days @2 scoop/day Cardio C he woke with no angina and has more energy every day! - Just like to let you know). Thanks. Regards" - Helena, Ireland
Testimonials represent a cross section of the range of results that appear to be typical with these products. Results may vary depending upon use and commitment.
Review of the Science
In 1994, Linus Pauling and associates informed the world that non prescription substances, they called "Lp(a) binding inhibitors", prevent cardiovascular disease and will destroy existing atherosclerotic plaque. Pauling's rationale explains why the Lp(a) binding inhibitors, vitamin C and the essential amino acid lysine, exert such a strong anti-CVD effect inside human arteries.
These substances diminish cellular growth which, if left unchecked, narrow the arteries, decreases blood flow and increases the chance of heart attack or stroke.
"People have a right to be skeptical," says Owen Fonorow, co-founder of the Vitamin C Foundation. "Scams abound and people don't know what to believe and often rely on their doctors. Most highly educated people think it impossible that heart disease could be caused by a vitamin deficiency, and the entire medical profession and pharmaceutical industry somehow missed it. However, the idea that a lack of vitamin C causes heart disease is not new. For some reason the early work, and the later Pauling/Rath theory and experiments, are ignored by medical science. We are thankful that Linus Pauling decided to film a lecture making these ideas available on video." [*]
According to Pauling, the Lp(a) binding inhibitor effect is two-pronged:
Vitamin C and lysine stimulate the production of collagen. An increased supply of collagen prevents the onset or spread of cardiovascular disease by making arteries stronger, and by preventing and healing arterial lesions that are caused by normal wear and tear.
Lp(a) binding inhibitors may reverse atherosclerosis by inactivating the affinity that Lp(a) cholesterol has for the amino acid lysine. The second action of binding inhibitors disrupts the formation of the plaque.

"These two complementary actions do not present the same risk that often accompanies prescription drugs and/or approved medical treatments for CVD," states Fonorow. "There are now thousands of reports referring to the plaque-destroying effect of the Pauling Therapy, and very few reports of outright failures. After fifteen years, there have been no reports of adverse reactions, even in severely incapacitated patients."
The Vitamin C Foundation Approved ® Cardio-C is designed mainly as a preventive. It is a powder that, when added to fluid, makes a completely safe, pleasant-tasting drink.

Pauling's therapy in the form of a drink avoids one common obstacle to public acceptance of the protocol: the large number of daily pills that would otherwise be required.
Cardio-C is a potent Lp(a) binding inhibitor. Its major component is Vitamin C Foundation-approved ascorbic acid, the most biologically active form of vitamin C. Cardio-C provides Pauling's preventative dosage of the amino acid lysine and also includes proline, but it does not contain other "extra" ingredients, making it less costly. It is well-suited to those already taking more recognized heart remedies, such as vitamin E, magnesium and CoQ10.
For more information and to order visit vitaminCfoundation.org or call us @ 800-894-9025.
---
Basis for the Pauling/Rath Discoveries
Cardiovascular related health problems comprise one-half of all causes of death in the USA. In 1994 Linus Pauling, Ph.D., and his associate Matthias Rath, MD, patented Lp(a) Binding Inhibitors for the prevention and reversal of common cardiovascular disease caused by a sub-clinical vitamin C deficiency (chronic scurvy). Previously, these two scientists had long advocated high-dose vitamin C treatment, and they had published a definitive theory as to the root cause and proper treatment for all forms of cardiovascular disease, including congestive heart failure, heart disease and stroke.
More about Lipoprotein(a) Inhibition, Vitamin C and CVD.
Lp(a) is a low density lipoprotein cholesterol molecule. Dr. Rath was a member of a German medical team that in 1989 first determined that human atherosclerotic plaques are composed of Lp(a), not ordinary LDL (the so-called bad) cholesterol. This finding led to hundreds of studies that strongly implicate Lp(a) as a primary risk factor in atherosclerosis, a narrowing of arteries that leads to the most common form of heart disease.
Vitamin C is invaluable in the human body's production of collagen. Collagen is a protein comprised of coiled lysine and proline fibers forming a helix which increases the tensile strength of blood vessels and other tissue. When the body produces ample collagen, arteries remain healthy, strong and resilient. A lack of collagen causes arteries to become susceptible to the effects of wear and injury. Acute scurvy, the specific vitamin C deficiency disease, is the result of a general breakdown of tissue caused by the lack of collagen.
The Canadian G. C. Willis first suggested in 1952 that plaques form as arteries wear out. In 1989, it was discovered that the body attempts to heal microscopic arterial injuries, called lesions, by producing Lp(a), a sticky molecule with lysine-binding receptors. The Pauling/Rath unified theory identifies Lp(a) as a vitamin C surrogate: The Lp(a) molecule provides stability to arteries in the absence of collagen.
Scientists have determined that lysine and proline residue, from broken collagen strands at the site of the lesion, attract Lp(a). These "sticky" molecules can form a scab in the fast-moving blood stream. More Lp(a) is attracted to the ever- expanding "blockage" as the atherosclerotic plaque grows. Healthy arteries do not have exposed lysine and proline residue and will not attract Lp(a) or form plaques.
High doses of specific nutrients prevent the spread of CVD, and may reverse atherosclerosis. Vitamin C combined with the amino acids lysine and proline create what Pauling and Rath called Lp(a) binding inhibitors. These low-cost, nontoxic substances prevent existing plaques from enlarging because they inactivate the Lp(a) molecule's affinity for lysine. According to the chemist Linus Pauling, the Lp(a) binding inhibitors are solvents that may "destroy existing atherosclerotic plaque."
Linus Pauling made specific dosage-recommendations. A dietary supplement must provide these nutrients at dosages much larger than ordinary vitamins in order to react as an Lp(a) binding inhibitor. At the proper high doses, Lp(a) binding inhibitors become the "Pauling Therapy" in honor of Pauling's contribution.
There are several nutritional substances that reduce Lp(a) blood levels. Vitamin C and vitamin B3 (Niacin) will lower Lp(a) 15-30% in one month. Alternative medical doctors have reported that the amino acid proline lowers Lp(a) significantly over a period from six months to 18 months.
Common cholesterol-lowering drugs called statins are known to elevate serum Lp(a). Advertisements for statin medications in Canadian medical journals must carry this warning.
Pharmacology professor Steve Hickey, Ph.D., co-author of Ascorbate: The Science of Vitamin C, states that over the past 50 years the medical profession has failed to produce the required experiments that may dispute Pauling's assertions.
"No one else has replicated the early vitamin C and heart disease research, (that could have been done by almost any cardiologist, from petty cash.) Since Pauling and others have promoted high vitamin C as a cure for heart disease, it's ridiculous that a potential cure for the worst killer in the developed nations (atherosclerosis) has not been refuted The fact is that the experiments have been performed on animals and the results show that vitamin C does protect against atherosclerosis, and that it may reverse it. There is additional evidence, from human studies, that is consistent with this interpretation. The question arises as to whether these studies have been performed on humans, and the data withheld? The enemies of Pauling, including the drug companies, would be happy to see the vitamin C hypothesis discredited, for monetary reasons."
Impressive Results
Several Lp(a) Binding Inhibitor formulas as dietary supplements are available without prescription.
Interest in the Pauling therapy grows due to the increasing number of favorable accounts of CVD reversals . Many of these detailed first-hand testimonials may be found at PaulingTherapy.com. [*] The listing posted at the Testimonials link includes names and contact numbers.
The Linus Pauling video on Heart Disease: A Unified Theory of Cause and Cure, shows Linus Pauling himself depicting seemingly miraculous reversals of incapacitated CVD patients. The video contains additional information for health professionals and may be obtained from PaulingTherapy.com, or by telephoning Intelisoft Multimedia at 800-894-9025, or 1-630-416-1438 outside the USA.

The Vitamin C Foundation
Contact: Mike Till, Sr.

---
WARNING AND DISCLAIMER
Use at your own risk. Neither the FDA nor the Medical Profession accept the proposition put forth by Pauling, Rath, Levy and others that the root cause of cardiovascular disease is an acute vitamin C deficiency at the site of the arterial lesion.
---
Articles of Interest
CHRONIC SCURVY The Suppression of the Real Nature, Cause and Outright Cure for Heart Disease ... by Owen Fonorow
The Cure For Heart Disease Treatment Protocol (Collected by Owen Fonorow)
The Cure For Heart Disease Condensed Short Paper by Owen Fonorow
---
"If the claims for vitamin C are correct, it might replace many lucrative and expensive medications. As they researched their book ASCORBATE, Hickey and Roberts began to wonder if Pauling's offense had been to discuss openly the properties of a substance that threatens the profitability of medicine. "
"People have a right to be skeptical. They don't know what to believe and often rely on their doctors. Most highly educated people think it impossible that heart disease could be caused by a vitamin deficiency, and the entire medical profession and pharmaceutical industry somehow missed it." - Owen Fonorow, co-founder of the Vitamin C Foundation.
Vitamin C Foundation

Cardio-C
In Stock! Foundation-Approved Pauling Therapy Drink Mix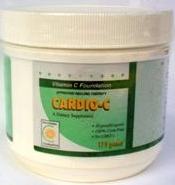 "My father loves the taste of Cardio-C."
-TOMMY O. (Sweden)