Vitamin C and Cancer
Last Update: Sat May 27 12:25:06 CDT 2006
Press Release/Owen's Book Review of the Hickey/Roberts Cancer Book

Hickey/Roberts Cancer Book Ready for Download
CANCER: Nutrition and Survival is a landmark book on the biology of cancer.

The book's title might have been Vitamin C Kills Cancer, because the most important natural cancer killing substance that pharmacology professors Steve Hickey, Ph.D., and Hiliary Roberts, Ph.D., cover is vitamin C (which is called ascorbate at high dosages.)

Hickey and Roberts' review of the literature informs us that scientists and researchers have discovered other natural, nontoxic substances that seem to amplify vitamin C's cancer killing ability.

The Foundation will offer hard copies when available. Please note that a private cancer forum exists which discusses the principles presented by professors Hickey and Roberts in this book.
Readers of CANCER: Nutrition and Survival learn:
How better diagnosis skews 5-year cancer survival statistics. Cancer discovered earlier means patients live longer after the diagnosis, not that conventional treatments are necessarily more effective.
Why cancers become aggressive, and why conventional methods that shrink, but don't destroy tumors, can lead to more aggressive tumors.
Why longevity and well-being might be increased by doing nothing, rather than accepting conventional treatment.
What the proper (very high) dosages are for "controlling" cancer with antioxidants (e.g., vitamin C). The book explains why some dosages will stop cancer growth and why even higher dosages can create blood levels that kill cancers.
Explain the experimental findings that have found that low dosages of nutrients, even vitamin C, may "feed" fast growing cancer cells, leading to more aggressive growth of tumors.
That nutrients can reach cancer killing levels via oral administration in most people. Oral administration is not only possible, but it is a necessary adjunct to I.V. administration, in order to keep constant pressure on the growing cancer.

The Cancer forum discussses the Hickey/Roberts book and associated science, and use of high-dose antioxidants for cancer. As is the case with our other products, the monthly charge to join the Cancer Forum, to monitor or ask questions, helps fund this web site and Foundation research.



In Extremis: First Aid for Advanced Cancer...
(or for anyone with cancer, at any stage)




Research backs theory that vitamin C shrinks tumours...

Intravenously administered vitamin C as cancer therapy: three cases...

Vitamins C and A synergistically fight breast cancer cell growth...
" A study published in the Journal of Nutritional Biochemistry found that administering both vitamin A and vitamin C to cultured human breast cancer cells was more than three times as effective than the administration of either compound alone.
"This is the first time the effect of combining retinoic and ascorbic acid on breast cancer cell proliferation, differentiation, apoptosis and antioxidant-related gene expression has been studied." Vitamin A produces astonishing leukemia cure rate, even without chemotherapy...


Vitamin A: Little Known Secret to Preventing Breast Cancer
If the cells don't get enough vitamin A stored, the retinoic acid receptor doesn't get activated, cells don't differentiate and they can turn cancerous.
Scientists turn vitamin E into super cancer killer...
Vitamin E (succinate) cancer-killing properties identified...

Water-soluble compounds from garlic reduced the size of liver cancer cells by a factor of three...

How Vitamin C Is Administered Affects How Much Reaches the Bloodstream and May Affect the Results of Studies of Its Potential Effect on Cancer ...
Crime Against Humanity
Dear Sir,
I have read with interest the recent online articles about Dr. Pauling's findings on Vitamin C therapy being the effective cancer treatment he knew it to be over 35 years ago.
As a cancer survivor, and a survivor only by the grace of God and despite what the medical profession did to me with chemotherapy, I am appalled that these findings were erroneously discredited and that this treatment was withheld from the public for so many years.
In my humble opinion, it was a crime against humanity perpetrated by the medical profession, and most likely because there was more money to be had by them by pushing drugs and chemotherapy, even though anyone who has gone through it knows how destructive and ineffectual it is to the human body.
I was in good health after my cancer tumor was removed, but almost died several times after receiving chemotherapy because of the damage it did to my entire system. When I think of all the others who suffered and died needlessly, I could cry.
MY BIGGEST CONCERN IS WHETHER THE MEDICAL PROFESSION WILL START USING THIS NON-TOXIC CANCER TREATMENT AND ADMIT THAT CHEMOTHERAPY WAS A DISASTER; AND ALSO, IF THEY DO START USING VITAMIN C AS AN EFFECTIVE CANCER FIGHTER/PREVENTER, WILL THE GOVERNMENT STEP IN AND MAKE VITAMIN C A DRUG AND MAKE IT IMPOSSIBLE FOR THE AVERAGE PERSON TO PURCHASE THE SAME OVER THE COUNTER ANYMORE????? THAT WOULD CERTAINLY ADD INSULT TO INJURY, BUT WOULD NOT SURPRISE ME IN THE LEAST.
THANK YOU FOR YOUR GOOD WORK AND GOD BLESS YOUR EFFORTS,
Linda V.
Dr. Cathcarts Vitamin C and Cancer Page
Attention Oncologists/Cancer Patients:

Preparation of Sodium Ascorbate for IV and IM Use... Cathcart's Written Instructions for Physicians


---
ABSTRACT: Pharmacologic ascorbic acid concentrations selectively kill cancer cells: Action as a pro-drug to deliver hydrogen peroxide to tissues...
Full Article:
NIH: Pharmacologic ascorbic acid concentrations selectively kill cancer cells: Action as a pro-drug to deliver hydrogen peroxide to tissues ...
Nobel prize winner's letter on vitamin C and cancer...
Cancer: Intravenous Vitamin C Effective Treatment
"The United States National Insitutes of Health researchers found ascorbate killed cancer cells at concentrations that would only be achievable through intravenous infusion. Normal cells were not affected by ascorbate at any concentration. [More sepp commentary]"

Annals of Internal Medicine: Vitamin C Pharmacokinetics: Implications for Oral and Intravenous Use ...


NIH (Levine's) Vitamin C/Cancer Paper Now Available - Free Download (pdf)

Intravenous Ascorbate as a Tumor Cytotoxic Chemotherapeutic Agent...


CLINICAL AND EXPERIMENTAL EXPERIENCES WITH INTRAVENOUS VITAMIN C (pdf)



Final Report of the Safety Assessment of [Vitamin C] i.e., L-Ascorbic Acid, Calcium Ascorbate, Magnesium Ascorbate, Magnesium Ascorbyl Phosphate, Sodium Ascorbate, and Sodium Ascorbyl Phosphate as Used in Cosmetics...
These data coupled with an absence of reports in the clinical literature of Ascorbic Acid sensitization strongly support the safety of these ingredients. Note: Report states that fear of tumors is misplaced, as effect is compared to bicarbonate of soda.
---
---
Contrary to popular misconception, fed by the Media; antioxidants, vitamin C in particular, are powerful weapons in the fight against cancer. But there is a question. How or why would Medical Science not know or be on the wrong track?
A former New York state assemblyman found the answer. If you or someone you know has cancer, read POLITICS IN HEALING: The Suppression and Manipulation of American Medicine by Dan Haley. This important, easy to read, gripping book contains more than FIVE outright cancer cures. And Haley restricted himself to public records and found sworn court testimony, including heads of the AMA.
After reading Haley's book, you'll want to know more about:
Cessium Chloride and The High pH Therapy for Cancer Best results when combined with high doses of vitamin C, vitamin A, zinc, selenium and Laetrile.
Today's version of William Koch's glyoxylide?
The definitive scientific evidence demonstrating the efficacy and safety of Vitamin C for cancer treatment
Even the mainstream is slowing recognizing value of vitamin C in the fight against cancer.
Animal-Based Nutrients Linked With Higher Risk Of Stomach And Esophageal Cancers Vitamin C supplements reduce stomach cancer by 40% Yale researchers also found that regular users of vitamin C supplements were at significantly lower risk of stomach cancer
Vitamin C and Vitamin K3 cause massive cancer cell death From Science News.
In 1954 McCormick postulated the theory that the factor which preconditions the body to the development of cancer is the degenerative changes caused by continued low levels of ascorbic acid in the body. According to Irwin Stone, additional evidence supporting this hypothesis comes from the work of Goth and Littmann in 1948. They found that cancers most frequently originate in organs whose ascorbic acid levels are below 4.5 mg/mmm and rarely grow in organs containing ascorbic acid above this concentration.
[Irwin Stone, The Healing Factor, Pg 95]
Now Posted:
Irwin Stone's 1972 book: The Healing Factor
---
Hugh Riordin
This really works. We have been playing around with too low doses.
This is the link to Riordan's best paper on the treatment of cancer with IVC.
---
Ralph Moss: Antioxidants Against Cancer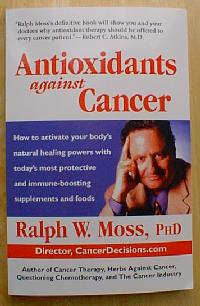 Must Read for both Cancer patients and Oncologists
Has the recent spate of negative publicity about antioxidants interfering with cancer treatment confused you? We highly recommend the new book by Ralph Moss, a leading expert on cancer treatments.
Antioxidants Against Cancer
is an excellent evidence-based summary, easily understood by both patients and their cancer treatment specialists. Ralph Moss's latest book shows why antioxidant therapy should be offered to every cancer patient.
Update on the latest science of Antioxidants and Cancer by Ralph Moss
The following is from the Moss book:
Combinations of Vitamin C and Conventional Anticancer Agents

| | |
| --- | --- |
| Vitamin C | -5.0% |
| 5-FU | 38.0% |
| 5-FU + Vitamin C | 95.5% |
| X rays | 72.0% |
| X rays + Vitamin C | 98.2% |
| Bleomycin | 73.0% |
| Bleomycin + Vitamin C | 92.0% |
Combinations of Vitamin E and Conventional Anticancer Agents

| | |
| --- | --- |
| Vitamin E | 47% |
| Bleomycin | 46% |
| Bleomycin + Vitamin E | 71% |
| 5-FU | 37% |
| 5-FU + Vitamin E | 71% |
| Adriamycin | 58% |
| Adriamycin + Vitamin E | 88% |
| Cisplatin | 57% |
| Cisplatin + Vitamin E | 82% |
Source: Kedar Prasad, University of Colorado, as summarized in Antioxidants Against Cancer by Ralph Moss
Vitamin C Foundation comments: Are high antioxidant intakes bad for your health?
---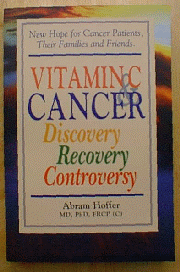 Hoffer's New Book Vitamin C and Cancer Now Available
The
vitamins-as-prevention
paradigm shift to
vitamins-as-therapy
is documented in this heavyweight text from the pioneer of orthomolecular medicine. Hoffer covers the surprising outcomes of cancer patients treated with
megadoses
of vitamin C. This book should assuage any fears that cancer patients may have about taking vitamin C during their treatment.
In stock. $14 + S&H. Contact the Foundation to order.
The following case study is from the Hoffer book. This patient (Case #351) was diagnosed with lung cancer,
Born in 1932, she was first seen in June 1991. In May 1991 she suffered the flu and cough. On routine x-ray a shadow was observed in her lung which had apparently been there one year before. A biopsy was positive. At first she refused to have surgery but later agreed to it in July. Three years earlier she had a myocardial infarct, later angina, and in January 1989 she had angioplasty. She had started to take vitamin C 6 grams per day, coenzyme Q10 200 mg, and beta carotene. I advised her to increase the vitamin C to 12 grams, to add niacin 1.5 grams, B complex-50, beta carotene 75,000 IU, vitamin E 800 IU, selenium 600 mcg, zinc citrate 50 mg, and folic acid 10 mg, all daily. On 11 June 1992 she was well and felt good. On 22 February 1994 she was getting on well. Again in June 1996 she was well." [Vitamin C and Cancer: Discovery, Recovery, Controversy, A. Hoffer, 2000]

Attention Oncologists/Cancer Patients:
Dr. Catchart on I.V. C.
Video III: Rationale for the Use of High-Dose Ascorbate... (Right click to download and save this 30 minute (36) Low Resolution RealVideo.)

This is the final video in a series based on a Robert Catchart, III, MD, lecture on vitamin C. It should help oncologists and other doctors unfamiliar with the use of I.V. sodium ascorbate understand the rationale behind its use and offers his explanation for the profound effects.
Note: Higher resolution files in different formats will be made available on CDROM and DVD.


Statin Cholesterol-Lowering Drugs and Cancer...


---
The 100-year-old Understanding and Cure for Cancer

Back to the Vitamin C Foundation
"We have had the opportunity to observe patients who have taken 10g or more per day of vitamin C during intense chemotherapy. We now recommend a high intake of vitamin C, in some cases up to the bowel-tolerance limit, beginning as early as possible." Linus Pauling (Pg. 241, HOW TO LIVE LONGER AND FEEL BETTER, 1986, paperback)
Vitamin C Foundation

Visitors since Feb 2004
Cardio-C
In Stock! Foundation-Approved Pauling Therapy Drink Mix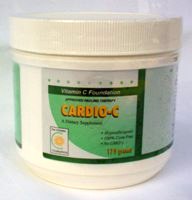 "My father loved the taste of Cardio-C."
-TOMMY O. (Sweden)