Vitamin C and Cancer
Last Update: Sun Apr 21 08:40:07 EDT 2013
Vitamin C: The Miracle Cancer Cure?
Non-toxic "chemo" is the miraculous promise of vitamin C in the fight against cancer. And now Vitamin C has been scientifically shown to exceed the ability of conventional chemotherapy to limit the growth of cancer cells in almost all cell lines in test tube experiments. Surely there must be a downside? Well, it costs a very small fraction of the cost of chemotherapy.

Recently exciting research has been published that documents the ability of vitamins C, E and selenium to prevent most cancers, and to decrease the mortality of pancreatic cancers, stomach cancers, prostate cancers and other cancers.

This page is devoted to helping explain the how and why vitamin C works against cancer tumors. We believe that vitamin C by itself is a relatively weak cancer fighter, but when augmented with vitamin K3, Alpha Lipoic Acid, and most recently, D-Fraction of the Maitake mushroom, vitamin C and these adjunts become one of the most powerful cancer killers known.

Amazing 10-Times Anti-Cancer Effect of Mushroom D-Fraction and Vitamin C Together Make it into a Mainstream Journal
Induction of Cell Death in Renal Cell Carcinoma With Combination of D-Fraction and Vitamin C.
Conclusion: The present study demonstrates that the combination of PDF and VC can become highly cytotoxic, inducing severe cell death in ACHN cells.
Pioneer Hugh Riordan on Vitamin C and Cancer
How Vitamin C Stops Cancer
A team of Johns Hopkins scientists have shown that in mice at least, vitamin C - and potentially other antioxidants - can indeed inhibit the growth of some tumors

Vitamin C Foundation Approved® Chicago Cancer Clinic
Join our forum
here
for the latest information on Vitamin C & Cancer
For Immediate Release
New York: August 2012
Vitamin C Combined with Maitake Mushroom Extract (D-Fraction) Together Stop (.>=90%) Cancer Growths in All Cell Lines

"Results Compared to individual drugs alone, combinations of those drugs and PDF (D-Fraction, Maitake Mushroom extract) showed significantly (p<0.05) improved anticancer activity, assessed by the growth reduction, on all 3 cancer cell types. On the other hand, combination of D-Fraction (PDF) (300 µg/ml) and Vitamin C (200 µM) was capable of inducing the drastic (.>=90%) growth reductions due to cell death in these cancer cells. These dramatic results were superior to those from any combinations of drugs and PDF.

Conclusions The present study demonstrates that the efficacy of chemotherapeutic drugs can be improved with PDF to a certain extent, but the PDF (mushroom extract-D Fraciont/Vitamin C combination can lead to severe apoptotic cell death with a G1 arrest and the modulation of critical apoptotic regulators. Thus, these findings suggest that PDF may have a great potential as an adjuvant agent that can be combined with chemotherapeutic drugs or with Vitamin C for the improved treatment of various urological malignancies."

Comparison of Anticancer Effects of Two Combination Trials in Urological Cancer Cells: Chemotherapeutic Drugs Combined with D-fraction Versus D-fraction with Vitamin C, Bobby Alexander, Andrew Fishman, Majid Eshghi, Muhammad Choudhury, Sensuke Konno, Townsend Letter for Doctors and Patients, Aug/Sep 2012, pg. 79-81 Abstract
Vitamin C In the News
Newsletter #4 (Aug 2012)
Newsletter #3 (Sep 2011)
Newsletter #2 (Mar 2010)
Newsletter #1 (Feb 2009)
Recent Studies (Reported in 2012)
Study: Long Term Use of Antioxidant Supplements Cuts Risk of Breast Cancer in Half
Taking antixodant vitamins for a long term may help prevent breast cancer, according to a study published in the Aug 24, 2011 issue of BMC Cancer. The study led by S.Y. Pan of Public Health Agency of Canada, Ottawa, Ontario, Canada and colleagues showed that premenopausal women who had taken zinc supplements for 10 years or longer were 54 percent less likely to develop breast cancer, compared to those who had not. The study also showed that supplementation of multivitamin, beta-carotene, vitamin C, vitamin E and zinc for 10 or more years was associated with 26, 42, 21, 25, and 53 percent reduced risk of breast cancer, respectively, in postmenopausal women. On the other hand, dietary antioxidants including beta-carotene, alpha-carotene, lycopene, lutein and zeaxanthin, vitamin C, vitamin E, selenium and zinc or supplementation of antioxidants for less than 10 years were not associated with reduced risk of developing breast cancer.
Study: Antioxidant Intake Significantly Decreases Pancreatic Cancer Risk by 67%
What researchers found was that those who consumed the most selenium roughly halved their risk of developing pancreatic cancer compared to participants with the lowest intake. Even more remarkable, participants in the top 25 percent of consumption of vitamins C, E and selenium reduced their risk by 67 percent. The authors concluded that this amount of reduced risk could possibly prevent 8 percent of pancreatic cancers.
Study: Vitamins E, C Cut Prostate Cancer Risk
The study led by E. Bidoli of Centro di Riferimento Oncologico, IRCCS, Aviano, (PN), Italy and colleagues found men who had highest vitamin E intake were 22 percent less likely to develop prostate cancer, compared to those who had the lowest intake.

A similar association was found between vitamin C intake and risk of prostate cancer. Men who had the highest intake were 14 percent less likely to develop prostate cancer compared with those who had the lowest intake.
Study: Vitamin C, E and selenium drastically reduce risk of death from gastric cancer (stomach cancer) and esophageal cancer in half.
"Gastric cancer or esophageal cancer patients who took vitamin C, E and antioxidative selenium supplements during a 15-year study were 50 percent less likely to die from the cancers."
Report: I Refused Drugs and Chemo to Battle my Breast Cancer With Fresh Veg
She refused not only chemo, but also a mastectomy and radiotherapy advised by doctors.

Instead, the 55-year-old former model decided that what she needed was a complete diet overhaul.

Jessica, from Bedfordshire, England, who now works as a leadership mentor, cut out dairy, upped her vegetable intake and took high doses of vitamin C.

Within three weeks of starting her intensive regime, a scan showed her tumour had gone to sleep and her latest blood tests came back normal.
---
More Studies
"We have had the opportunity to observe patients who have taken 10g or more per day of vitamin C during intense chemotherapy. We now recommend a high intake of vitamin C, in some cases up to the bowel-tolerance limit, beginning as early as possible." Linus Pauling (Pg. 241, HOW TO LIVE LONGER AND FEEL BETTER, 1986, paperback)
Vitamin C Foundation

Cardio-C
In Stock! Foundation-Approved Pauling Therapy Drink Mix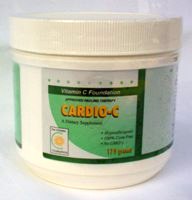 "My father loves the taste of Cardio-C."
-TOMMY O. (Sweden)